Is the FCC purposely making their comments section unavailable?
Tonight on the program "Last Week Tonight" on HBO, John Oliver exhorted his audience to go file comments on the FCC website to address their proposed rules that many believe will destroy Net Neutrality. In visiting the page, it is clear that people are interested in commenting on this particular item.
A few more comments than usual. I suspect this didn't happen in the 5 minutes between when John Oliver made his comments and when I visited the site. What if we look back in time? Did this all happen very quickly and overwhelm their servers?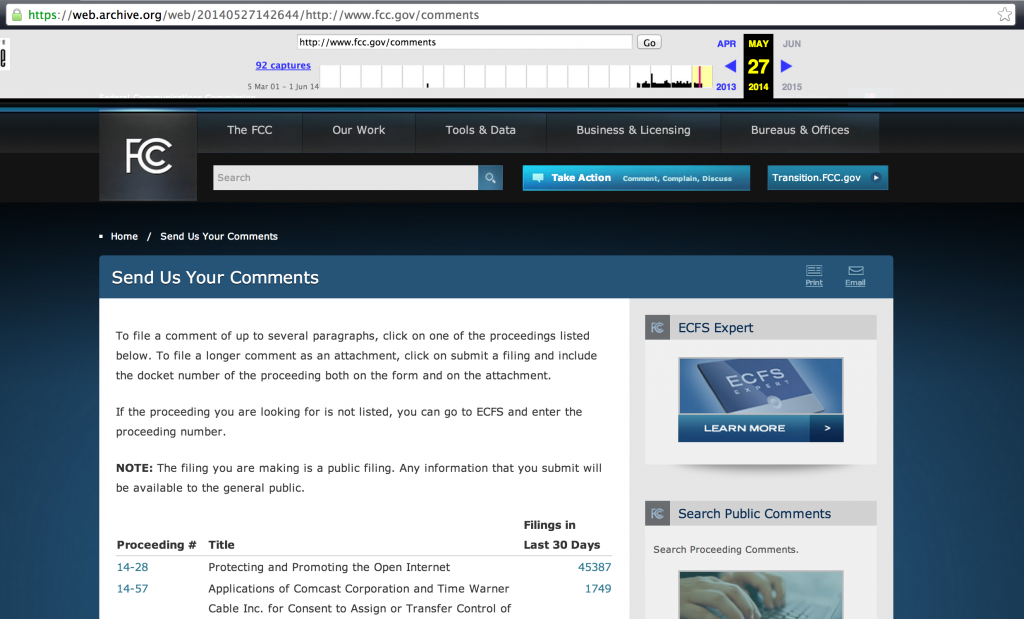 No.
So then why are they down? Try posting a comment right now. You can't. Try pinging the server it's on, apps.fcc.gov. You can't. It's hard to imagine that they couldn't have seen that this might be something that needed some load balancing to allow comments from the huge number of people who obviously want to make their voices heard.
Is the FCC using the same tactics the cable companies are – creating artificial "scarcity"? I don't know, but I'm very curious. A neutral content policy is what has made the Internet great. If bullies like the worst company in America can just congest sites that it doesn't like, it can control speech. I can't prove that the FCC is doing this here, but this is A PERFECT EXAMPLE of what would be possible if the cable companies get their way. "Sorry, we couldn't possibly build more capacity to deliver the stuff you want. That would cost money, and we're too busy swimming in a pool of ours."
No thanks.
Edit 6/2 – The site still isn't allowing comments, and appears to have actually lost a number of them! 1,162 to be exact.

If you care about Net Neutrality and want to voice your concerns, first go complain on the FCC bug tracker about not being able to.